Common errors that can impact your PageRank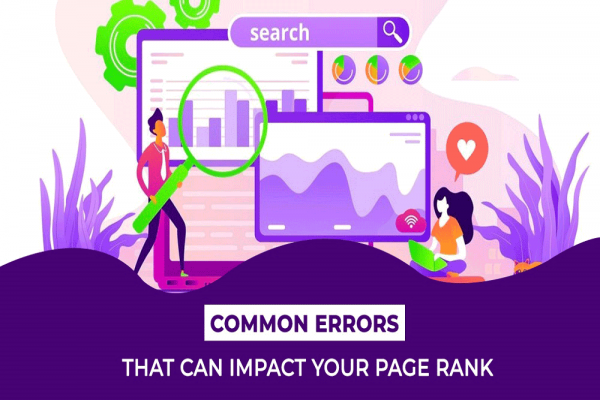 Every website faces some SEO errors that impact the online visibility and Google rankings of the website. You must also be worried about the errors but don't you worry you are not alone many are there facing the same. Well, let's get deep into it and let you know about some of the most common SEO errors and broken links SEO.
Accessibility and Indexation:-
Duplicate Content: It happens when there is more than one identical content and becomes harder for search engines to identify for which all the content suffers. Having more than one identical page makes it difficult for search engines to feature one in the search engine results page. But if there are problems then it has a solution also so one of the common ways to deal with it is to use canonical tag, which helps search engine in indexing.
Forgotten Noindex Tags: Ever happens that you forget to use Noindex tag which means you don't want the search engine to index the content or page but when you forget that you have to use Noindex tag which in turn search engines end up not indexing the content or pages that should be indexed so it creates errors. One must careful to avoid such errors further.
Using iFrames: In the iFrame, the content remains invisible to search engines as it is an HTML file inside another HTML and this leads to low-quality pages that hurt the speed of the pages causing a bad page experience.
Low Word Count: It is not said that word count is a ranking factor but if you are uploading a short blog post on a specific topic that doesn't contain sufficient information on the topic and if your article is too short that doesn't justify the topic than in that case it becomes difficult for Google to rank your page and may deem the content as low-valued.
Flash: this one is outdated and has been discontinued from all major browsers. But any content within the flash files becomes difficult for search engines to render.
AMP:-
To get rankings in Google your page must be optimized for mobile. AMP is incredibly technical and difficult as it allows the mobile pages to load faster.
Deprecated Elements: To avoid these common errors you should have checked the outdated tags in your AMP document from time to time so that your website runs smoothly.
CSS and JavaScript Errors: Not always CSS style sheets and JavaScript code comes with AMP but you must check to avoid errors.
HTTP Status code:-
HTTP status code errors are a big problem to deal with. No need to worry there is numerous way to deal with such errors and two most common SEO tools that help to identify errors in your pages. The most common HTTP error is the 404 status code. 404 SEO errors affect the PageRank. 404 SEO errors mean the page is missing or not found as soon as you click it shows a 404 error.
Server status code 4xx: Errors affect the ranking of your page and make sure that if your pages return various 4xx errors. These errors come from broken links SEO and impact the age negatively.
Server status code 5xx: If your pages have 500-509 errors that determine that your server fails to perform the visitor's request.
HTTPS certificate and server parameters:-
Mixed Content: It becomes difficult for google to load mixed content and warns for mixed content. Mixed content is suspected to have a hacker attack.
Insecure Password Input: If your page has insecure password input it may be suspected of theft and will make an HTTP page unprotected.
Common Name Mismatch: The common errors that you may see if your registered domain name doesn't matches with the name displayed in the address. One must be careful to avoid such common errors.
Links and redirects:-
Orphaned Pages:The name itself tells the story as we know what is orphan so, here in technical language a page without links is known as an orphan page. These pages remain unindexed as these pages don't have links and remain invisible in the search engine result pages.
Links to redirected pages: You may have seen that there were links that redirected us to different doorway pages. Make sure you don't repeat the same mistake and keep your link directly to landing pages.
Links from bad pages: Avoid websites having a bad reputation as it can affect your PageRank. use Google's disavow form to get rid of such errors.
Page speed:-
The loading speed of the page is incredibly important. See the following to know more-
Not using browser caching: Don't use browser caching as it slows down the loading of your content.
Not enabling compression: Enabling compression decreases the bytes transported via the network.
Hreflang attributes:-
Hreflang page source conflicts: Hreflang page sources create conflicts and trouble with the canonical URLs, no self-referencing hreflang URLs, and conflicting hreflang URLs.
Invalid hreflang values: Remember to use the right language and country code together with a hyphen.
Conclusion:
By avoiding the above-mentioned 19 SEO errors you can improve your page performance and user experience. Hope this article helped you to know about the most common SEO errors that can hurt your PageRank and visibility.
---
Posted
2 years ago
by
24 techsoft
No comments yet! Why don't you be the first?
Add a comment